Last Updated on May 23, 2020
The original movie, Living in Bondage, was a charm and saw the likes of Kenneth Okonkwo, Kanayo O. Kanayo and Nnenna Nwabueze in their breakout roles. Living in Bondage was one of the precursors of change in the Nigerian film industry and ushered in the era of Nollywood.
Now, twenty seven years later, the sequel, Living in Bondage: Breaking Free, has been released. Read on as we delve into both movies, compare the two, discuss the impact of the first movie on Nollywood and find out if there was really a need for a sequel.
---
---
Living in Bondage (1992)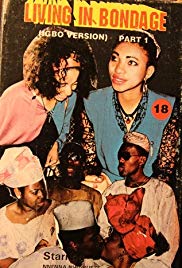 Living in Bondage is a 1992 Nigerian thriller film directed by Chris Obi Rapu. It was written by Kenneth Nnebue and Okechukwu Ogunjiofor and produced by Ogunjiofor. It's a two part drama film and stars the following actors; Kenneth Okonkwo, Nnenna Nwabueze, Francis Agu and Bob-Manuel Udokwu.
The story follows the protagonist, Andy Okeke (Kenneth Okonkwo), who joins a secret cult, introduced to him by his friend, Paul (Okechukwu Ogunjiofor) and makes a Faustian bargain in exchange for earthly riches.
After getting rich, Andy is haunted by the ghost of his wife, Merit (Nnenna Nwabueze), and his material gains is mirrored by his psychological loss.
In the denouement, Andy is taken to church by a prostitute, Tina (Rita Nzelu), where Andy confesses his sins to his mother-in-law, gains redemption and worships with the Evangelical Christians after being cured.
Living in Bondage Breaking Free (2019)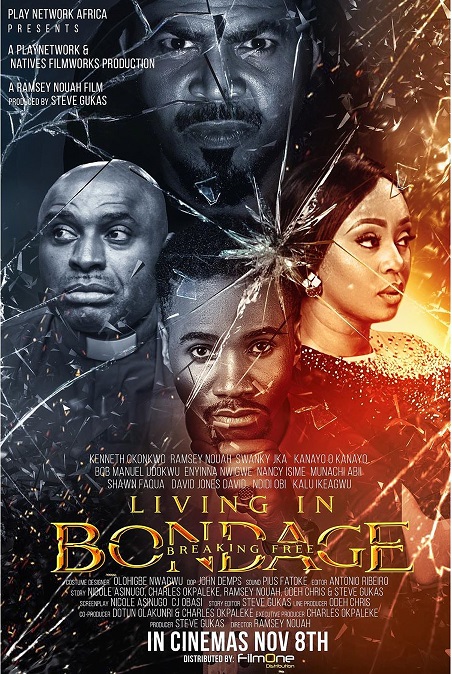 The sequel to the Nollywood's classic saw Ramsey Nouah make his directorial debut. Living in Bondage: Breaking Free was released on the 8th of November, 2019.
Living in Bondage: Breaking Free stars Swanky JKA, in his breakout role, Ramsey Nouah, Nancy Isime, Kenneth Okonkwo, who reprises his role as Andy Okeke and veteran Nollywood actor, Kanayo O. Kanayo, as the high priest, Omego.
The sequel focuses on Nnamdi Okeke (Swanky JKA), the secret offspring of Andy's second wife, who in his quest for a luxurious lifestyle follows in the path of his father.
Subsequently, after meeting billionaire, Richard Williams (Ramsey Nouah), Nnamdi is initiated into a secret cult called the Brotherhood of the Six, an offshoot from the cult in the original. Nnamdi's association with this cult makes him extremely rich.
Andy Okeke, with the help of an investigative journalist and blogger, Uzoma (David Jone David), who is currently investigating the suspicious murders surrounding famous billionaires, join efforts to save his son, Nnamdi, from the cult before it's too late.
Comparison
Both films are critically acclaimed movies. While the original was known for influencing what we know as Nollywood today, the sequel has not only become a box office hit but has ranked as the eighth overall on the list of highest-grossing Nigerian films of all time, which is no small feat. We have also included it together with the original on our list of Top 100 African Movies of All Time
The first movie Living in Bondage, displayed new ways of making Nollywood movies with the direct-to-video production. A superb plot and the use of the indigenous Ibo language made it an instant cross-cultural success that would set the bar for many more Nigerian films to come.
Living in Bondage: Breaking Free capitalized on the success of the original, with Veteran actor, Ramsey Nouah, together with screenplay writers, Nicole Asinugo and C. J. Obasi, delivering a masterpiece in 2019 and what would become the standard for sequels of Nollywood classics to come.
---
Read: 10 Best African Movies In 2019
---
Without showing a single flashback scenes, a tool mostly overused by other Nollywood sequels, the writers reminded us of the original plot of the first Living in Bondage movie with themes of wealth, occultism and the stigma of being poor. From the opening scenes, where a girl is beheaded for a ritual sacrifice, viewers are reminded of the series of events that made the 1992 blockbuster a hit.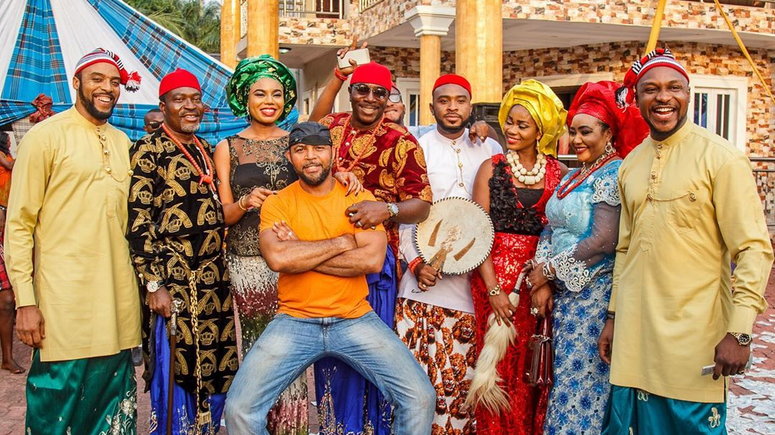 The importance of the sequel cannot be overemphasized, as it has laid the groundwork for how sequels of old Nollywood blockbuster movies should be done.
The well-written script was perfectly matched by Nouah's fresh directorial skills that depicted Nnamdi's vain quest for the luxurious life in a glamorous and opulent manner, without diluting the real essence and message of the film.
At the 2020 Africa Magic Viewers' Choice Awards (AMVCA), Living in Bondage: Breaking Free went on to win 7 awards out of 11 nominations.
The awards included a Best Overall Movie and Best Director wins for Ramsey Nouah and Steve Gukas.
Living in Bondage was available on VHS when it first came out, but as of 2019, you can see it for free on several YouTube channels with a 5-hour run-time. The sequel, Living in Bondage: Breaking Free can only be seen in cinemas around Nigeria at the moment. We hope to see it soon on either Amazon Prime Video or Netflix.
Edit: Living in Bondage – Breaking Free is available to watch on Netflix starting from May 22nd 2020.
Conclusion
With countless rave reviews and the positive reception of the sequel, Living in Bondage: Breaking Free has without a doubt, been a successful follow up to the original release.
Tell us what you think of Living in Bondage: Breaking Free in the comment section.